Wiltshire Air Ambulance Response car and Simon visit school to collect a cheque.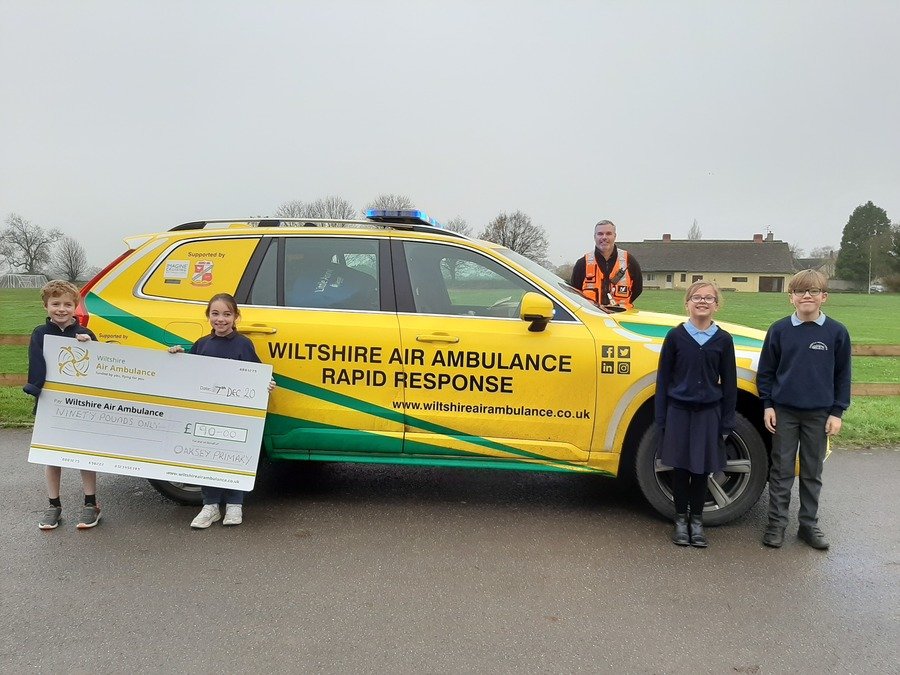 November 2020
Simon from Wiltshire Air Ambulance spent a day in school teaching everyone how to respond to an emergency situation and how children can help someone contact the emergency services. We all learnt lots of new information!
In March 2020, 11 children represented the school to present a cheque to Wiltshire Air Ambulance for £2500, plus a donation of £500 from Ellisons Coaches, Ashton Keynes. We had a tour around the station and watched the helicopter take off on a training flight.
The children had raised this huge amount through a range of fund raising and sponsored events. A great achievement!
Residential Report - Dare Valley 2019
We are delighted to have been awarded the School Games Silver Mark for our work within PE and the wider aspect of promoting keeping children active.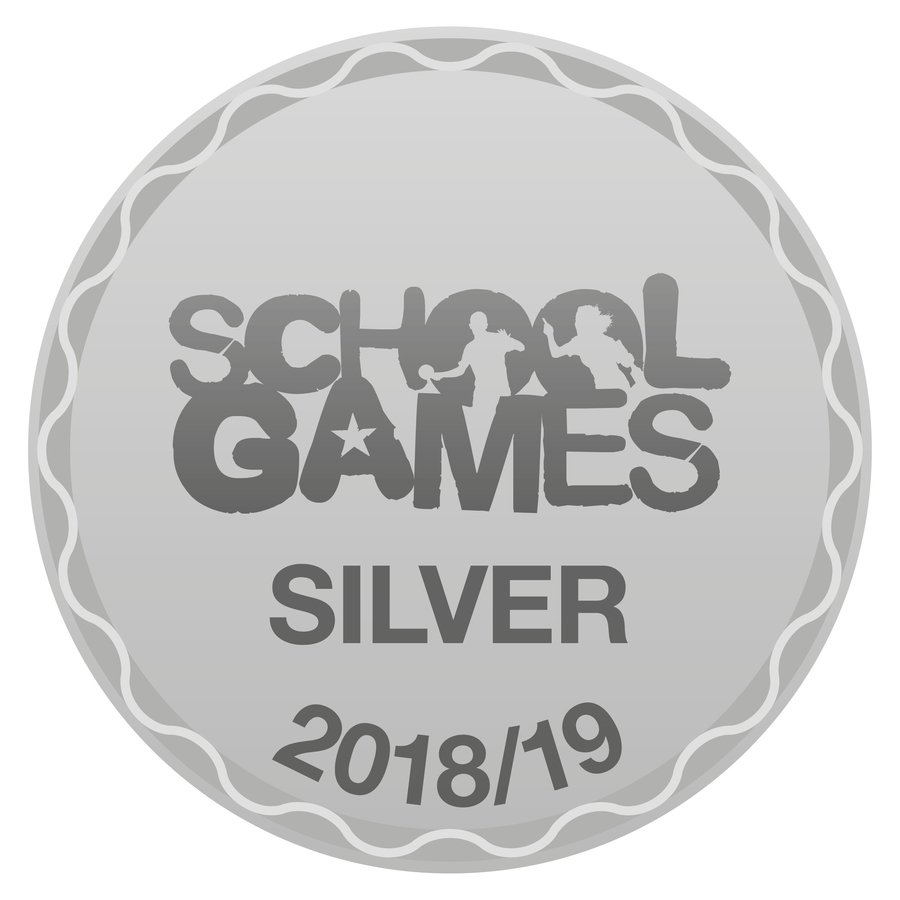 Lots of different events that have taken place at school as part of our learning!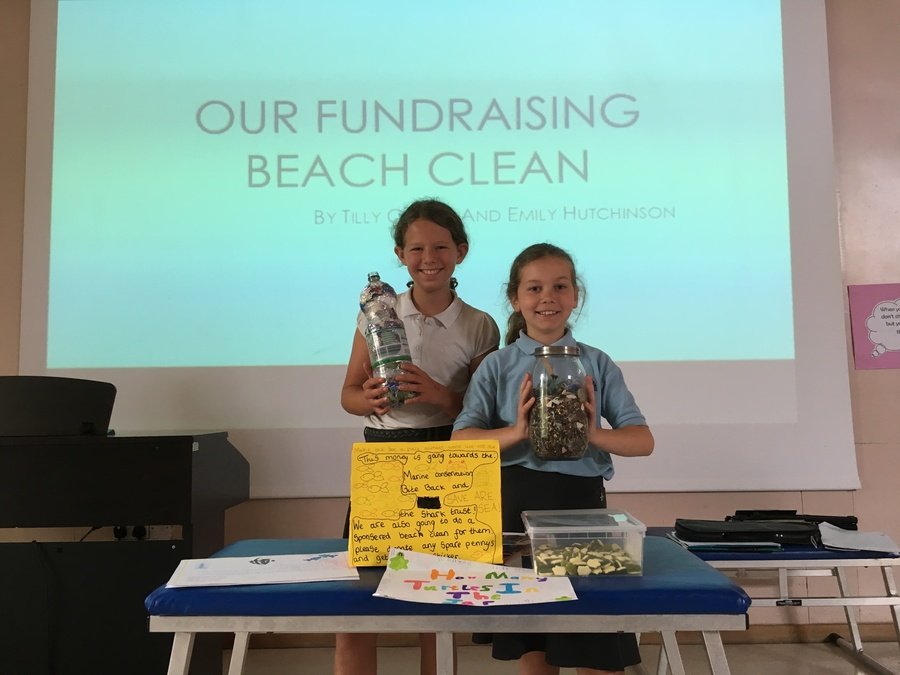 Tilly and Emily telling the whole school about the Beach Clean they did in the May holiday break.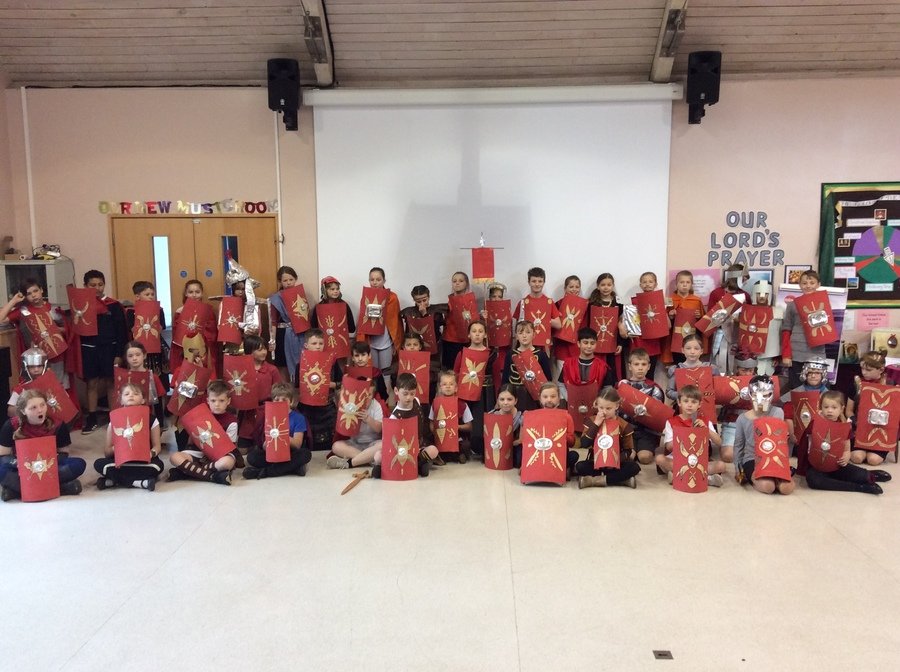 Class 2 and 3 have taken part in a 'Roman' Day where they attended a Roman Legion Training Camp. The staff have given a big thank you to parents for helping the children get into the spirit of the day.
This is just a short message to say thank you so much for all of the effort and creativity that was put into the children's costumes today. It really facilitated the children's immersion in the experience of learning about life in the Roman army. Their marching to Latin commands was top notch, Caesar himself would have been proud!
Thank you again for all of your enthusiasm,
Cluster Schools STEM project day at Malmesbury
By Year Five
On Wednesday 5th June 2019, we travelled on a bus to the Riverside Centre in Malmesbury. Year 5 and 6 from Oaksey met with the KS2 of Minety and Crudwell and Dr Beggs from Malmesbury Secondary School. She explained where to put our projects (on habitats). Crudwell had mummified tomatoes and made musical instruments whereas Minety had created projects on Bees and Honey.
We were split into four groups to do introductory activities for 10-15 minutes each:
1. Keep two or more ping pong balls in the air by using a Dyson hairdryer;
2. To put skewers through blown up balloons;
3. Make a dome out of cocktail sticks and jellied sweets; and
4. Make paper aeroplanes/helicopters and rocket mice.
After the experiments, we had the opportunity to explore the other children's projects. The Mayor of Malmesbury and our parents then had the chance to explore our exhibits. The Mayor of Malmesbury was particularly impressed by Charlotte and Ella's learning on Temperate Grasslands and their research on the Naked Mole Rat! Once everyone had explored, we were allowed to go however a group of us stayed behind to work with Ben Edmonds (Arabella's Dad) on a special STEM project.
We were given '£1000' to purchase materials to build the strongest but cheapest bridge. To create the bridges, we used cardboard, lolly pop sticks, cellotape, glue guns and stanley knives (under supervision). At the end, each bridge was tested to make sure the car and boat could travel freely then Ben poured water into jugs balanced on top of the bridges. Georgia, Chloe and William (Crudwell) created the strongest bridge whereas Jaiden, Teya, Max (Crudwell) and Sonny created the cheapest bridge.
Maisie enjoyed learning about the virtual bees from Minety. Lily enjoyed explored the pictures of mummified fruit from Crudwell. Ella and many others enjoyed tasting the honey from Minety. Gabi particularly enjoyed the challenge of poking a skewer through a balloon.
World Book Day 2019 - in aid of Book Aid International.
Challenge: think of a book you recommend to a child who has never owned a book in their life and
come dressed as a character from that book!
Thank you everybody - we raised over £184.00!
Snow Day - Friday 1st February
Challenge - Build the tallest snowman you can and send in a photo of you stood beside it!
Click on the link below to watch the video from the STEM project Primary Science day at Malmesbury Secondary School where our Year 6 children presented their Science Project.
Science Day - May 2018
T
o begin our Science Day, we invited Fizz Pop Science Presenter Michael to join us. Michael gave an half an hour assembly to the whole school; engaging the children in the subject of air with a range of hands on experiments. Hopefully from this assembly, we will have enough interest to run our own Science Club at
Oaksey with the support of Fizz Pop Science.
The children then spent the day involved in projects within their classrooms. Class Two and Three joined together to complete a STEM project based around materials and forces.
As a starting point, the groups created four different types of paper airplanes: The Dart, The Lock Bottom, The Sniffer and The Wedge. They tested these on the playground to determine which was the best to cover distance.
Next, the groups split back into their individual classes. Class Two used the data to interpret the average distance covered by each plane whilst also plotting the distances on a line graph. Class Three used footage taken during the testing to analyse the best angle for release.
Finally, the children returned to their original groups to share their findings and were then tasked with the challenge of recreating their best paper airplane in a different material. Whilst children worked, groups were taken aside to explore the forces acting upon moving vehicles through the use of a wind tunnel, built and loaned to us by Jamie Bray. Through using the tunnel, the children were able to gain a deeper understanding into forces such as drag, lift and air resistance.
In the end, the children had deepened their understanding of the practical applications of materials and forces having had to consider the weight, strength and aerodynamic qualities of their recreations.
Our Christmas concert 2017 with all 82 children taking part in different ways!
Our recent Residential visit with the Year 4, 5 and 6 children to Start Bay, South Devon, which included, amongst many other things, coastal walks, beach bouldering and art sculpture sessions, learning about D Day practices at Slapton Sands, role play as an wartime evacuee (eating spam and egg sandwiches), visting the Butterfly and Otter Centre and riding on a steam train!
The School Gardening Club entries in the Village Autumn Festival 2017.
The school gained two third places and a highly commended!
Oaksey and Sutton Benger Year 5 and 6 children at the sailing, kayaking, rafting and paddle boarding day at South Cerney Outdoor Educational Centre. Fantastic weather for getting wet all day!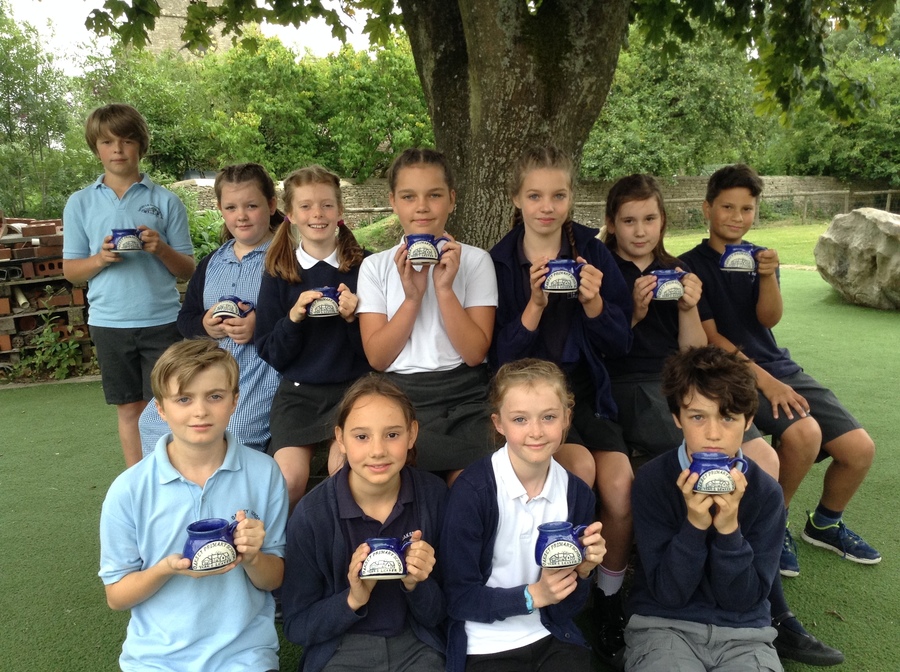 Our Year 6 Leavers with their leaving 'mugs' donated by FoOS and made by Mrs King.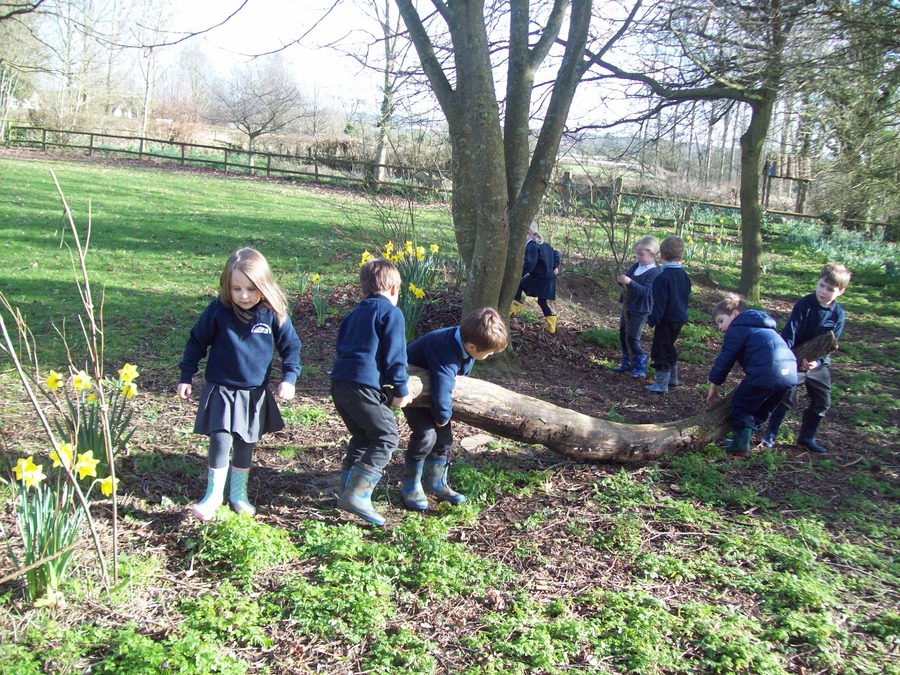 Class 3 South Cerney Outdoor Education Centre: What a great day! The sun was shining as the children enjoyed building a raft and racing across the lake in the morning. In the afternoon they chose kayaking, paddle boarding or sailing, and finally they all cooled off by jumping off the jetty
Malmesbury Athletics Day for Year 6 - Year 6 pupils learnt how to throw a javelin, a shot putt and a discus and then competed against each other on the track. Oaksey students won first place for the 800m (boys and girls), 100m (girls), Hurdles (girls), Relay (girls). Well done to everyone who took part. Lots of Emerald power was shown all afternoon with everyone having a go.
Maths Week - The pupils explored patterns in lots of different ways: sound, shape and number. We celebrated our achievements in assembly on Friday.