Class 3 - Year 5 and 6
'we shine brighter together...'
Click here for Class 3's welcome letter from Mr Macleod
Click here for our topic learning - Autumn 2020

Click here for Homework information - October 2020
Mrs King, who has worked at Oaksey School for 22 years, as a Teaching Assistant and MDSA
retired at the end of Term 1, 2020.
She has worked for a long time with the older children and was given a special send off (Covid style) on the last day of term. Class 3 had written a poem for her remembering all the things she has done for the school and the children.
As part of
'Share A Pencil Day',
Class Three spent the morning considering inequalities within our society as well as across the globe. To experience what it is like to recieve an education without our range of resources, the children, in pairs, shared one piece of paper, a pencil and a whiteboard. They were tasked with writing a story about inequality using the prompt '...Gerald just couldn't stop laughing...' The pictures beneath show the children listening to Gabi and Reuben's story 'The Refugee'
Today, a new girl appeared within our school. Her name was Bella, or so she thought. She was unusual. She was different. Her deep brown eyes would stare intently at Mrs Hughes, our teacher, lost in a foreign world. A foreign language. Bella couldn't read or write. She was practically mute, and deaf from the sounds of bombs erupting in her home country of Syria....
As part of British Science Week (8th-17th March), Class Three shall be exploring the journey of plastic - production, use, waste, recycling/repurposing. Within our week, the children will be exploring, designing and building a 'new' item made from recycled plastic bottles. As a result, Class Three will need a fair amount of plastic bottles of varying sizes, colours and shapes during the next week. Could you please rummage throughout the recycling and send your child to school with two-three bottles each.
Class 3 wrote this poem during their Literacy Session in Term 3, which was based around our sense of 'beginnings and belonging'.
They all wrote a sentence about themselves and then we discussed creating fluency through our punctuation and stanza structure.
We Come From
(Based on the poem 'I Come From' by Dean Atta)
We come from close friendships and content families;
...from busy families and our times together.
We come from asthma attacks where our families were there.
We come from lines of animal lovers;
...from homes of friendly dogs, cats and small ponies.
We come from England but have lived elsewhere.
We come from Slovenia.
We come from pepperoni pizza and a Sunday roast with pork stuffing.
We come from stolen sandwiches at the zoo.
We come from our dad's racing fun.
We come from dance to the world of figure skating.
We come from swimming lessons in hot pools to swimming pools in the blazing sun.
We come from the most beautiful golf courses in the world.
We come from new parts.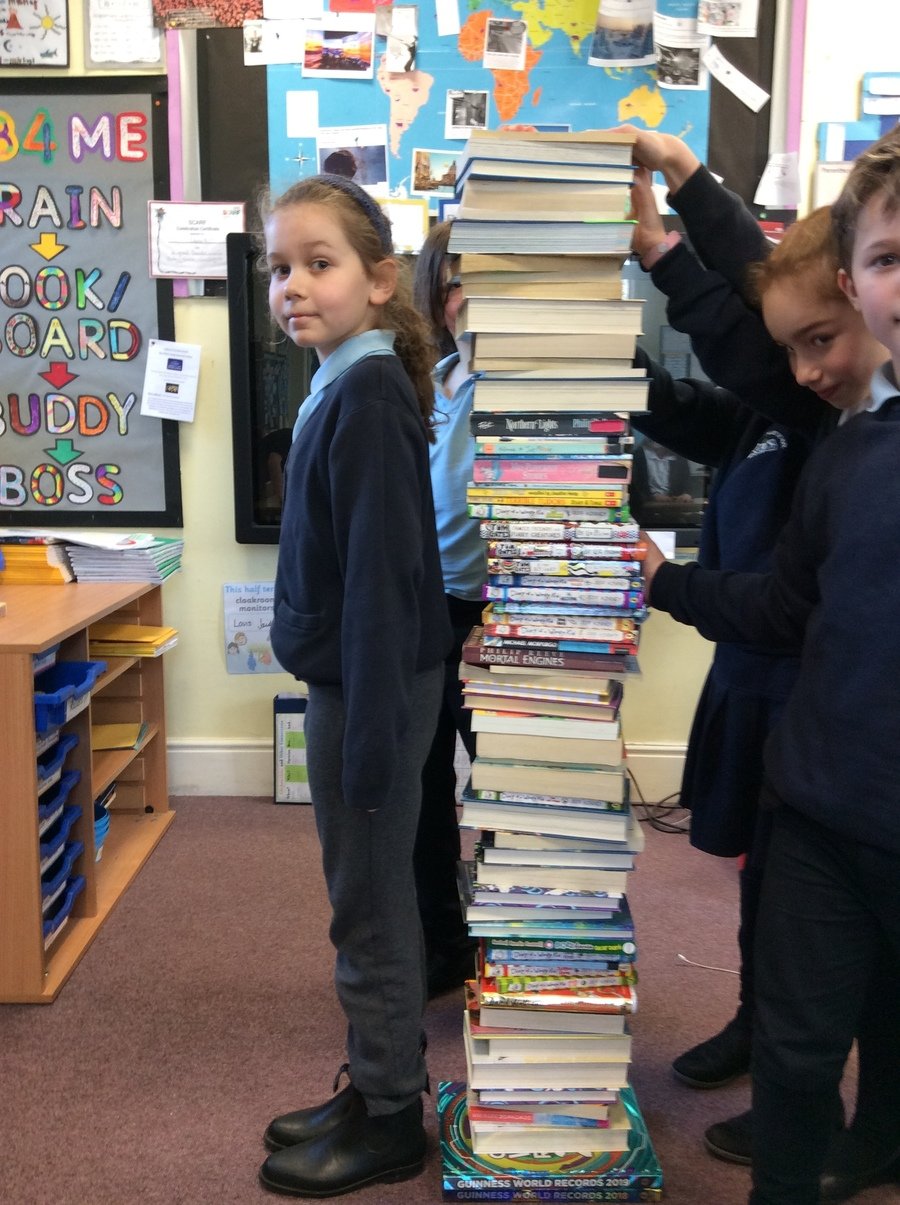 At the beginning of Term Three, Class Three's challenge was to read enough books to build a tower taller than Emily.
Every child has contributed a book to our tower, with the average book being 281 pages - kindly calculated by the Year Six Girls.
The most popular authors seen in our tower, 69 books high, were Jeff Kinney (Diary of a Wimpy Kid), Liz Pichon (Tom Gates), David Walliams (Ice Monster, Gansta Granny, etc) and Michael Morpurgo (Friend or Foe, Warhorse and Kensuke's Kingdom).
Making 'Brush Monsters in Science!
On Friday 15th December, Class Three were joined by Mr Edward Richards a Mechanical Engineer from Atlantis Resources who wanted to give us a taste of what being an engineer was like. We were also joined by Mrs Pitman-Jones and four children from Sutton Benger.
Mr Richards began the morning by explaining the role of a Mechanical Engineer whilst also giving us an insight into his most recent project designing, building and installing multi-million pound tidal turbines off the coast of Northern Scotland.
We then spent the rest of the session with Mr Richards deepening our understanding of electrical circuits, their components and electrical diagrams for our Brush Monsters followed by learning about how an off centered mass can effect the movement of a object, specifically our Brush Monster.
Our Brush Monsters were made from ordinary dustpans and brushes!!
Once we had tested our bare Brush Monsters, we used the remainder of our session to decorated them and their 'nests'
The stages in making the final monstrosities are below.
I
n our current topic, Electricity, we spent the morning investigating the effects of resistance on voltage within a circuit. To help us to understand the idea, Mr Skill drew a chalk circuit on the playground including a light bulb, switch, battery and resistor.
We began by walking around the circuit to mirror the power within a 1.5 Volt battery moving all the way to sprinting around our circuit to demonstrate the power within a 240 Volt circuit. This helped us to understand the difference between the amount of power within different circuits.
Mr Skill then added in a resistor made from two benches. When walking around with the resistor in our circuit there was minimal effect to the flow of electricity however when we mirrored the 240V circuit we immediately noticed that there was a massive backlog as we had to slow to move through the resistor.
In the classroom, we followed this up by creating our own resistors made of wire wrapped around a pencil.